Buongiorno.
airBaltic
(Lettonia) sta continuando ad aumentare le destinazioni e a ridurre il passivo. Ora servono più passeggeri.
Nel Primo quarto del 2020 le perdite arrivavano a 180 milioni di euro, ridotte a un terzo nel primo quarto 2021 (60 milioni).
Anche a proposito di rotte la compagnia fa sapere che nel 2021 ha superato il numero di destinazioni del 2019, arrivando a circa 90 collegamenti dai paesi Baltici.
31 A220-300 in flotta che fanno di airBaltic il più grande operatore al mondo del modello Airbus (ex Bombardier).
The turnover of Latvian airBaltic airline was EUR 49.963 million in the first half-year, which is 41.6% when compared to the first half-year of 2020. Losses have reduced thrice – to EUR 61.515 million, according to the company's information.
In the first six months of 2021 the airline carried more than 329 000 passengers, which is 59.4% less when compared to the same period of 2020. The number of flights has reduced 51.1% – to 6 110.
Cabin load in the first half-year was 42.5%.
In the first half-year airBaltic's market share at Riga International Airport was 66%, which is 12 percentage points more when compared to the same period of last year. In Tallinn the airline's share has declined by 6 percentage points – to 18%, whereas in Vilnius the airline's share has increased by one percentage point – to 11%.
In the first half-year of 2021 turnover of Latvian airBaltic airline consisted of revenue from ticket sales – EUR 36.914 million. Revenue from charter flights reached EUR 3.096 million and revenue from freight transports was EUR 2.341 million. Additional revenue composed EUR 4.992 million. Other revenue composed EUR 2.62 million.
The account mentions that airBaltic was forced to reduce its work output due to Covid-19 restrictions in the first quarter of 2021.
Once the epidemiological situation in Latvia and Europe started to improve, airBaltic started gradually increasing operations.
airBaltic CEO Martin Gauss says that although the airline's revenue in the first six months of 2021 continued to decline, this year's summer was promising because airBaltic managed to carry more passengers when compared to summer 2020 and reduce the concern's losses threefold when compared to the first six months of 2020.
«Thanks to a significant reduction of costs in 2020 and usage of Airbus A220-300 aircraft, we are in much better shape to be able to return to normal operations in the future. The vision remains unchanged – becoming the main carrier in the Baltic States and providing the best connectivity to and from the region,» adds Gauss.
On 17 August the Cabinet of Ministers in Latvia made a conceptual decision to invest up to EUR 90 million into airBaltic capital. This decision will need to be approved by the European Commission.
AirBaltic explains in the account that it is hard to predict what could happen in the second half year – much will depend on the epidemiological situation in Europe and Latvia. The company's current flight booking trends do not provide transparency in the fourth quarter. This is because most passengers book flights less than eight weeks before the planned departure date.
In the first half-year of 2020 airBaltic worked with turnover of EUR 82.523 million and losses of EUR 184.77 million.
airBaltic
has said that by connecting Baltic region with almost 90 routes across Europe and beyond, the airline has managed to surpass the number of routes offered during the same period in 2019.
Martin Gauss, chief executive officer of the Latvian airline, said: "To maintain essential connectivity and address the leisure demand, this summer we launched a selection of new sunny destinations.
"At the same time, we continue to connect Riga, Tallinn and Vilnius with major European business centres and transit hubs."
He added: "airBaltic connects Baltic region with over 30 different countries.
"Thanks to a strong codeshare network of 24 different partners, many of whom offer global connectivity, airBaltic passengers can conveniently reach many regions of the
world."
Currently airBaltic continues to offer significant connectivity from Riga, Tallinn and Vilnius to leading European business centres and transit hubs.
In addition, airBaltic offers a wide variety of leisure destinations from Riga, Latvia.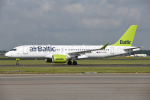 Ultima modifica: