Buongiorno.
Con la notizia dei voli per New York JFK da parte di
Neos
sembra che ci sia un assalto agli USA e ai vari aeroporti delle città più importanti: è notizia recente il lancio di voli da Settembre su New York e Washington di
Air Senegal
con lo stupendo A330-900neo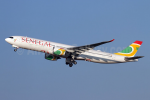 Air Senegal has made this announcement (translated): Air Senegal will connect Washington via New York at a rate of two frequencies per week from September 2, 2021. On this date, Air Senegal will be…
worldairlinenews.com
e di Bamboo Airways (Vietnam) verso Los Angeles e San Francisco, sempre da Settembre, con il bellissimo B787-9.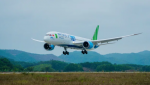 Bamboo Airways is moving ahead to launch flights from Ho Chi Minh City (Saigon) to Los Angeles and San Francisco on September 1, 2021. Bamboo announced it had been granted the final approvals. The …
worldairlinenews.com
Poi c'è la Pragusa.One, ancora praticamente sconosciuta, che dovrebbe iniziare a volare da Dubrovnik verso Los Angeles e New York EWR con A350 Premium Class dal prossimo mese...